Saturday, Dec. 11, 2021
1:30 p.m.
Alumni Athletics and Convocation Center, Bill Greehey Arena
Commencement Keynote
President/Chief Executive Officer, University Health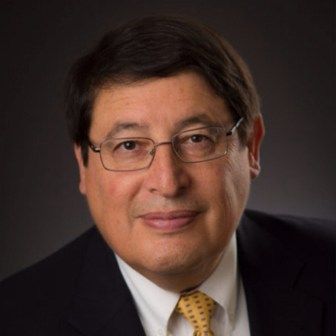 George B. Hernández Jr., J.D., is the President/Chief Executive Officer of the Bexar County Hospital District d/b/a University Health. The institution operates 28 primary, specialty and preventive healthcare centers throughout Bexar County, as well as University Hospital, a 716-bed hospital that serves as South Texas' only civilian Level I trauma center and first and only Level I pediatric trauma and burn center. University Health also operates a nonprofit HMO, Community First Health Plans, Inc.; and University Medicine Associates, a nonprofit multispecialty physician practice.
The University Health is South Texas' first Magnet healthcare organization, a status designated by the American Nurses Association and earned only by 6% of U.S. hospitals. As one of the Most Wired Hospitals and Health Systems in the nation, University Health ranks in the top 1% of U.S. health organizations for achieving a high level of information technology integration. Hernández serves as a member of the "Code Red" Task Force on Access to Health Care in Texas and is past chair of both the Texas Hospital Association (2013) and Teaching Hospitals of Texas (2005-08).
In 2019, Hernández was awarded the Texas Hospital Association Earl M. Collier Award for Distinguished Health Care Administration. He received the Reynaldo G. Garza Lifetime Achievement Award in 2016 from the State Bar of Texas, Hispanic Issues Section, for his commitment to addressing concerns affecting the Hispanic community and for advancing diversity and access to justice in the practice of law. In 2009, he was honored by the Texas Council of Community MHMR Centers as the recipient of the Frank M. Adams Award for
Outstanding Volunteer Service and named one of Modern Healthcare magazine's Top 25 Minority Executives in Healthcare for 2010. Hernández and the University Health's chief information officer were joint recipients of the 2008 Transformational Leadership Award from the College of Healthcare Information Management Executives and the American Hospital Association.
Hernández is a native of San Antonio. He earned a bachelor's degree from St. Mary's University and law degree from George Washington University School of Law in Washington, D.C.
Tags