St. Mary's honors the 2023 Marianist Heritage Awards recipients
Join us as we celebrate the 2023 Marianist Heritage and Marianist Student Leadership Award honorees during a breakfast ceremony.
Thursday, Jan. 19
8:30 a.m.
University Center, Conference Room A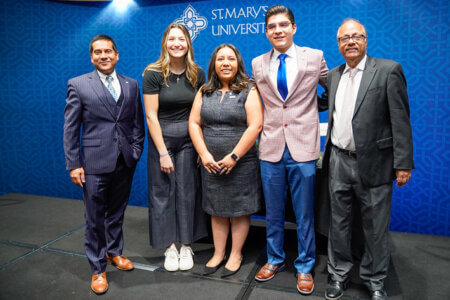 From left, Ajaya Swain, Kristina Heergegen, Magdalena Salazar, Jose Francisco Chaman and Prasad Padmanabhan


St. Mary's University today gathered to celebrate the life and heritage of Blessed William Joseph Chaminade, founder of the Society of Mary. The community also honored the five members of the St. Mary's University community with a 2023 Marianist Heritage Award, which recognizes those who showcase faithfulness to the University's Marianist heritage.
Since 1981, these annual awards have celebrated those who express an interest in the development of the Marianist charism through efforts at increasing knowledge and working for its transformation into practice in the University community.
Marianist Student Leadership Award Honorees
Jose Francisco Chaman, Economics and International and Global Studies major, May 2023
Deni Cresto, Master of Business Administration, May 2023
Kristina Heergegen, Mathematics major, May 2023

Marianist Heritage Award Honorees
Prasad Padmanabhan, Ph.D., Professor, Greehey School of Business
Magdalena Salazar, Administrative Associate, Public Administration, Political Science and International StudiesAjaya Swain, Ph.D., Associate Professor, Greehey School of Business
Ajaya Swain, Ph.D., Associate Professor, Greehey School of Business
Tags