Spring 2019, St. Mary's University Commencement --- May 11, 2019
From Loretta Sanchez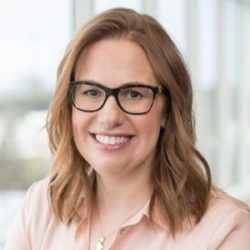 Spring 2019 Commencement Speaker
Katherine D. Resteiner (M.S. '94)
Chief of Staff, Intel Capital, Intel Corporation

Kathie Resteiner is Chief of Staff for Intel Capital, Emerging Growth and Sports. In this role, she oversees operations and initiatives across Intel's strategic growth areas, including mergers and acquisitions (M&A), equity investing and new business incubation. She is also technical assistant to Wendell Brooks, President of Intel Capital and Senior Vice President of Emerging Growth and Sports.
Prior to becoming chief of staff, Resteiner was an M&A integration manager for Intel Capital, responsible for running diligence, end-to-end integration and change management. She joined Intel in 2015 via the integration of McAfee into Intel; at McAfee, she was leader of the M&A Integration Management Office.
Resteiner has broad operational experience in manufacturing, new product introduction, supply chain, procurement, marketing, operations and support. She was part of the startup of the company Virtual Computing Environment, a joint venture between VMware, Cisco and EMC, and also had long tenures at Alcatel-Lucent and Harris Corporation.
She holds a bachelor's degree from Virginia Tech in Industrial and Systems Engineering and a master's degree in Industrial Engineering from St. Mary's University. She credits her strong connections with the faculty and staff of St. Mary's for helping launch her career through internships with Pace Foods, Alcoa and Harris Corporation in San Antonio.
Resteiner currently resides in Silicon Valley with her husband Marc, who earned his J.D. from the St. Mary's University School of Law.
Tags